In this Update:
Camp Lavigne Helps Boy Scouts Grow
Bright Farms Greenhouse Plans to Expand
State Champion Athlete Recognized
Selinsgrove Moose Lodge Celebrates 100 Years
Kingdom Kidz Uses Puppets to Reach Children
Paramedics Recognized for 25 Years of Service
Local Eagle Scout Recognized
Fighting to Support Students in Failing Schools
Free Webinars to Help Students and Families Navigate the Financial Aid Process
Water Assistance Available for Low-Income Families
Beware of Unsolicited Emails Claiming to be from PA Treasury
Celebrating Independent Retailer Month
---
Camp Lavigne Helps Boy Scouts Grow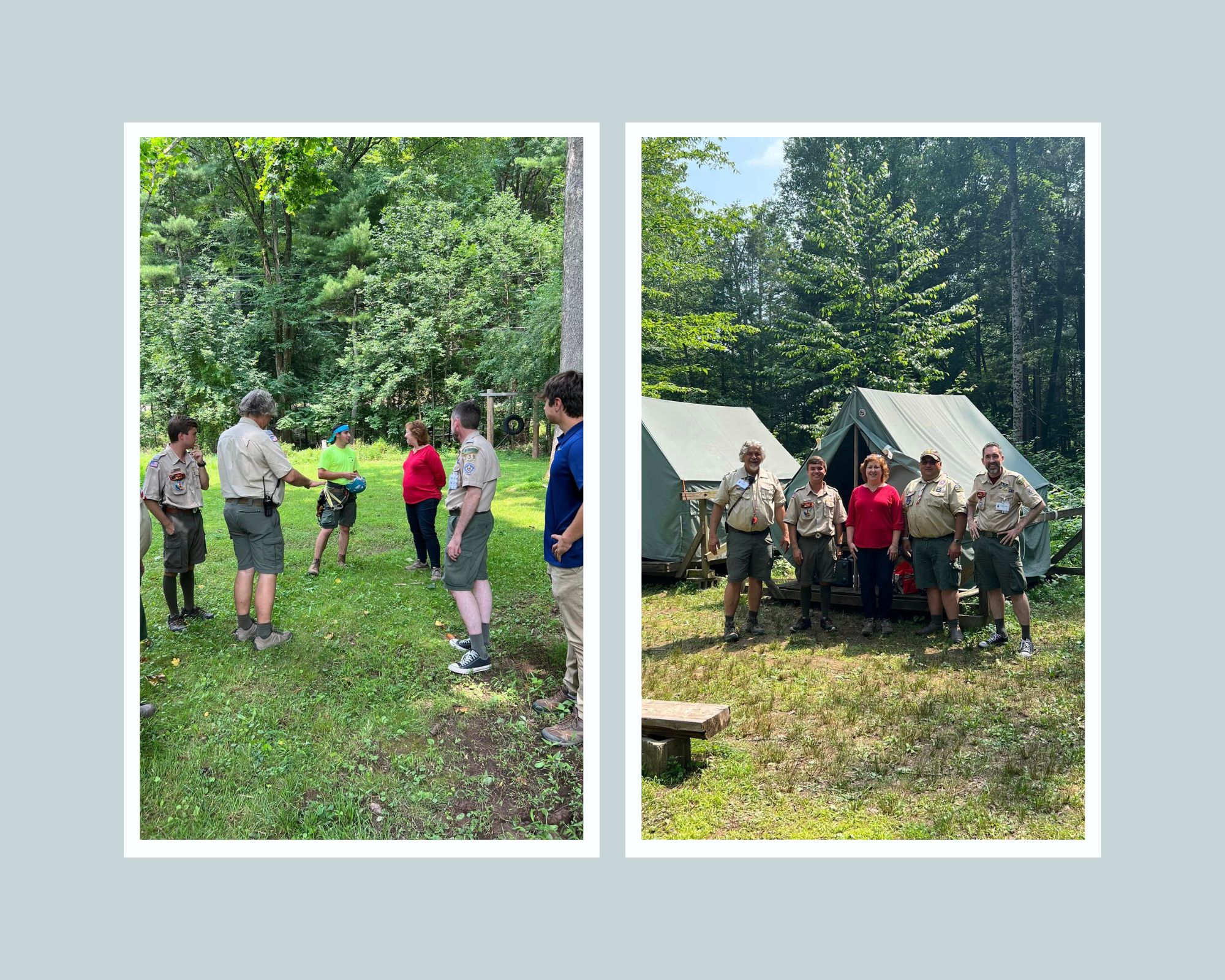 It was a pleasure visiting the Boy Scouts at Camp Lavigne in Benton! I had the opportunity to tour the camp's program area and speak to many scouts and see the various activities in which they participate. Camp Lavigne has been welcoming campers of all ages to participate in a wide variety of programs and activities for 100 years. Camp Lavigne also offers a traditional Scout resident camp in the summer as well as Cub Scout day and resident camp. Thank you to Pastor James Lease and the scouts for showing me around your wonderful camp!
Bright Farms Greenhouse Plans to Expand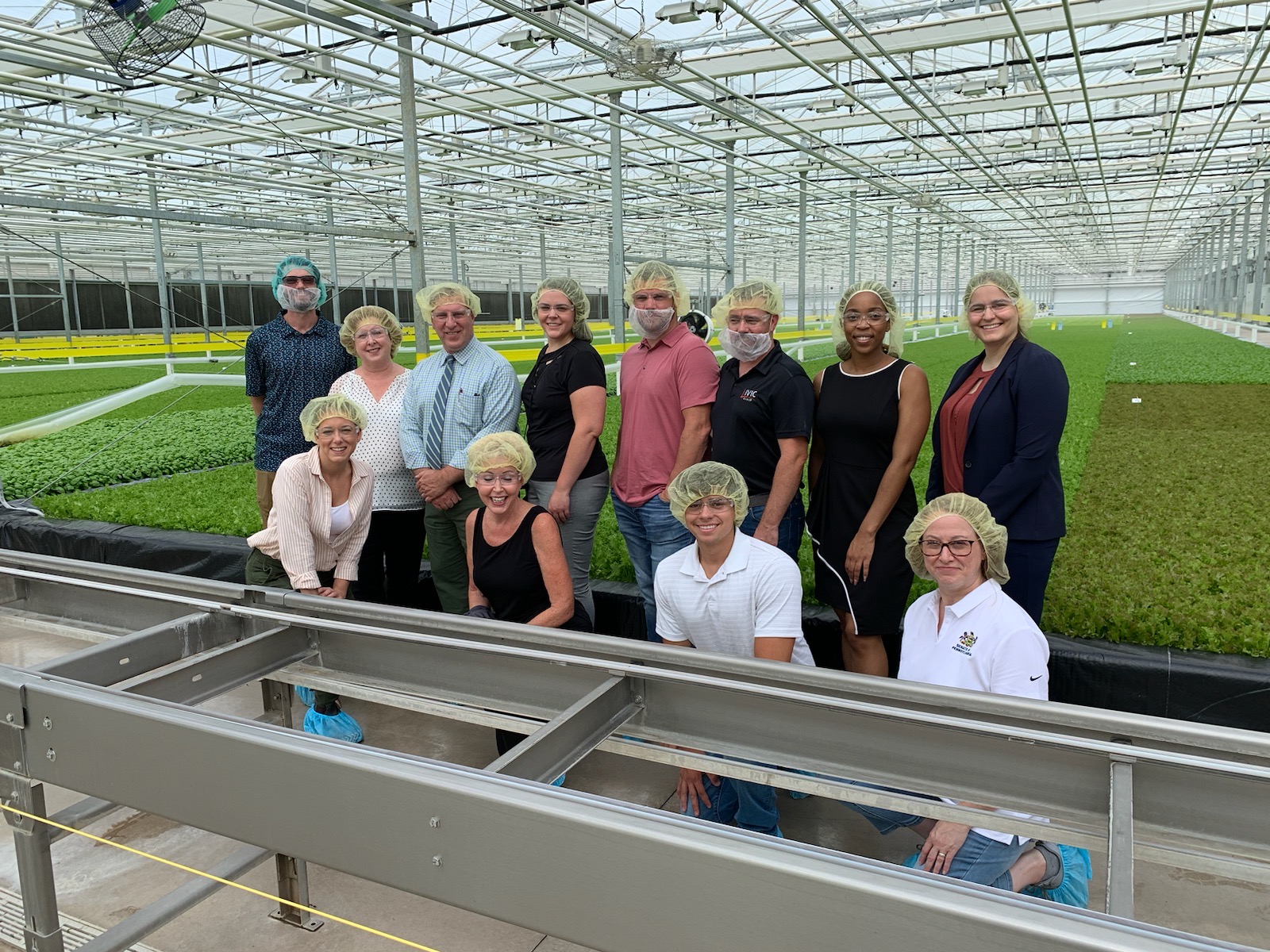 I had the unique opportunity to tour the Bright Farms greenhouse farm located in Selinsgrove. While there, we had the chance to discuss their plans for expansion and their vision for the future. This farm, which is 280,000 square feet, supplies Pennsylvania and the New York City metro area with an array of greens that are grown hydroponically all year long! We were all amazed by this unique growing process and the care they take in harvesting excellent looking greens. Thank you to Bright Farms for the tour and congratulations on your extremely successful business!
State Champion Athlete Recognized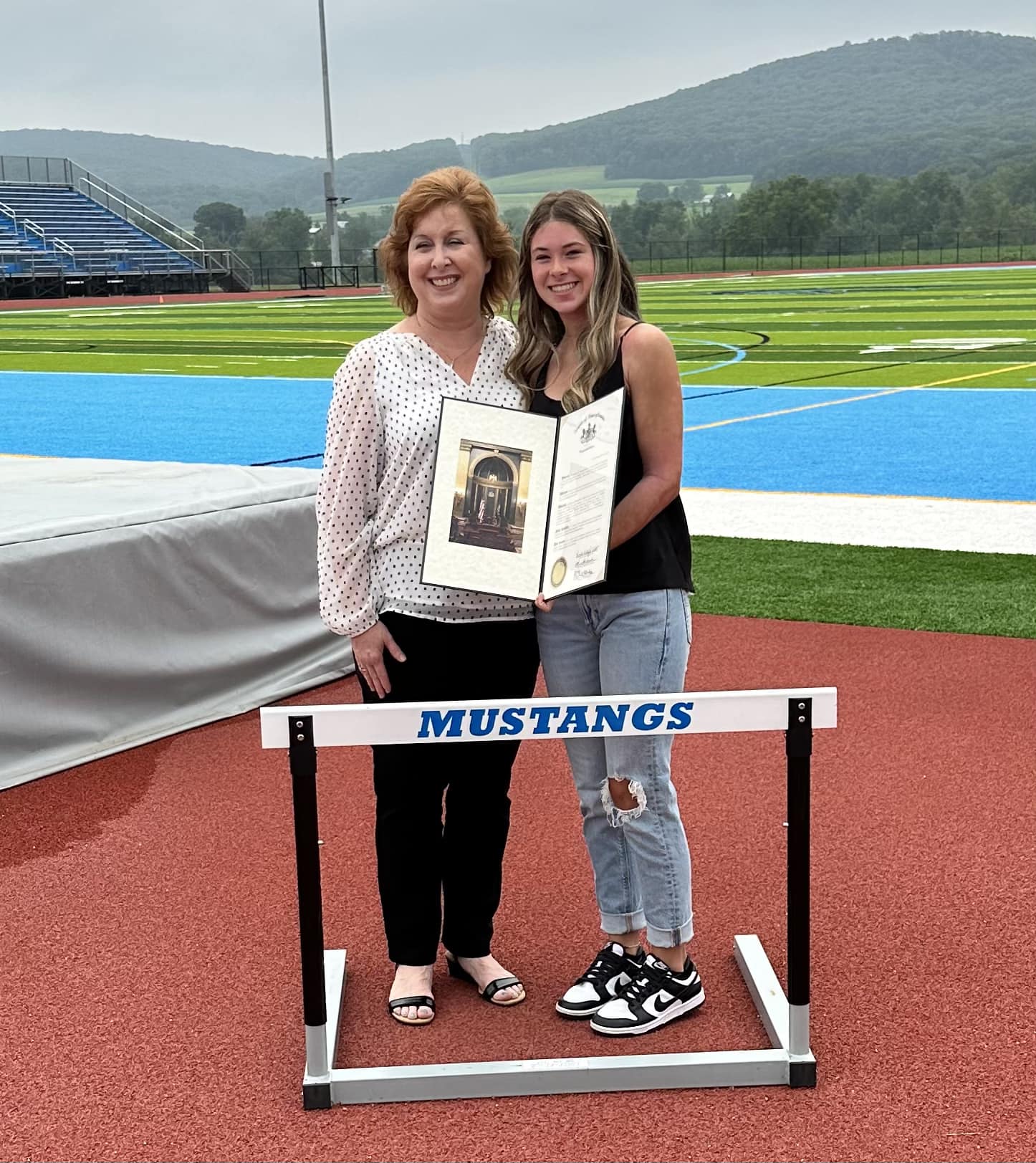 I had the opportunity to recognize Camryn Pyle for her outstanding athletic accomplishment in winning the PIAA Class 2A 2023 Pennsylvania state championship in the 300-meter hurdles. Camryn, who attends Midd-West High School, also competed in the 100-meter hurdles where she placed 7th at this year's championship.
Congratulations, Camryn, and best of luck to you in all you do!
Selinsgrove Moose Lodge Celebrates 100 Years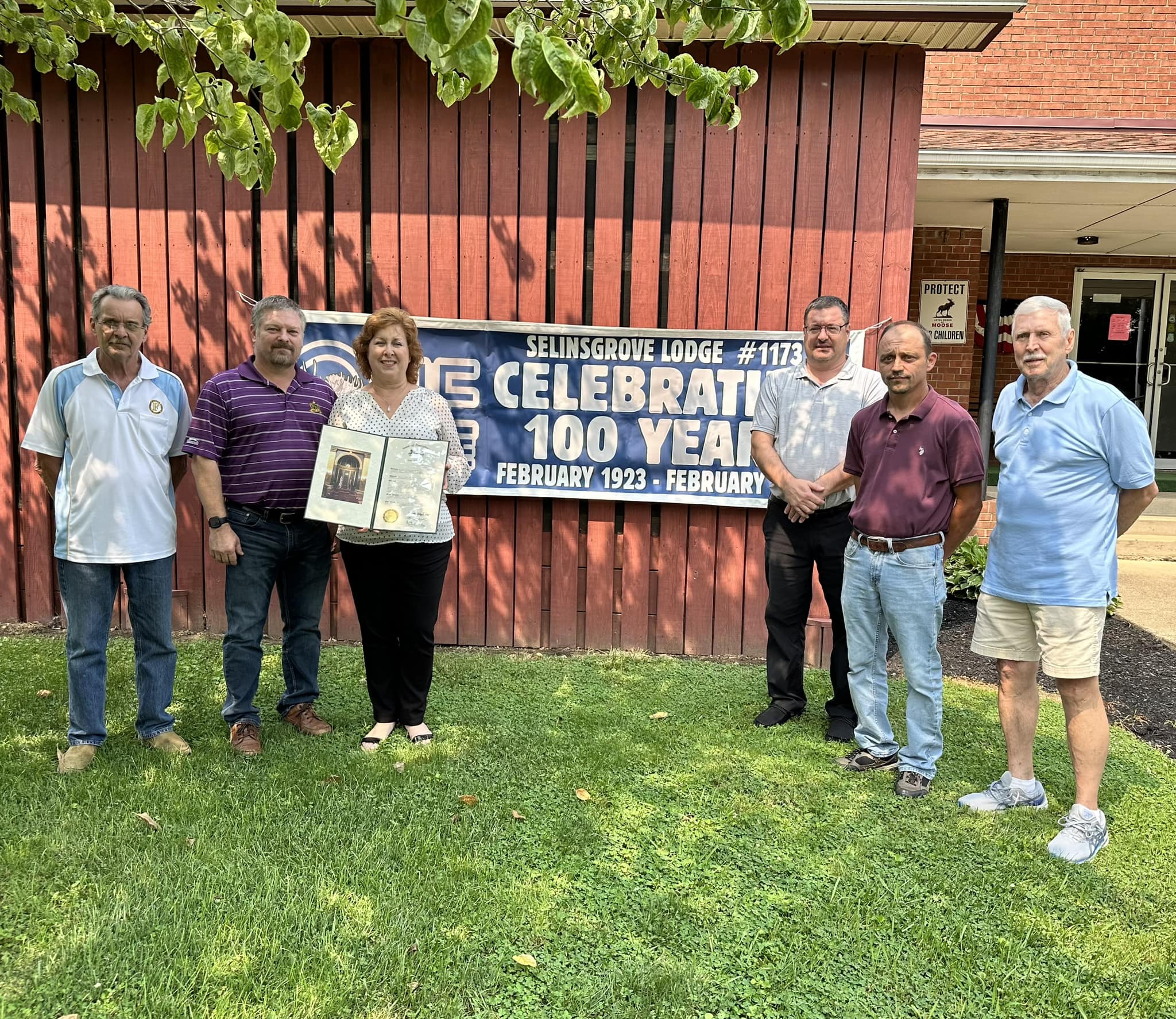 Congratulations to the Selinsgrove Moose Lodge on celebrating 100 years of community service to local residents in the Snyder County area! The Moose Lodge provides service locally by holding events and activities that benefit children, the elderly and veterans. The Moose Lodge also provides money to serve their facilities at Moosehaven in Florida and Mooseheart near Chicago. Thank you to the Selinsgrove Moose Lodge and all their members for the continued support you provide to so many people.
Kingdom Kidz Uses Puppets to Reach Children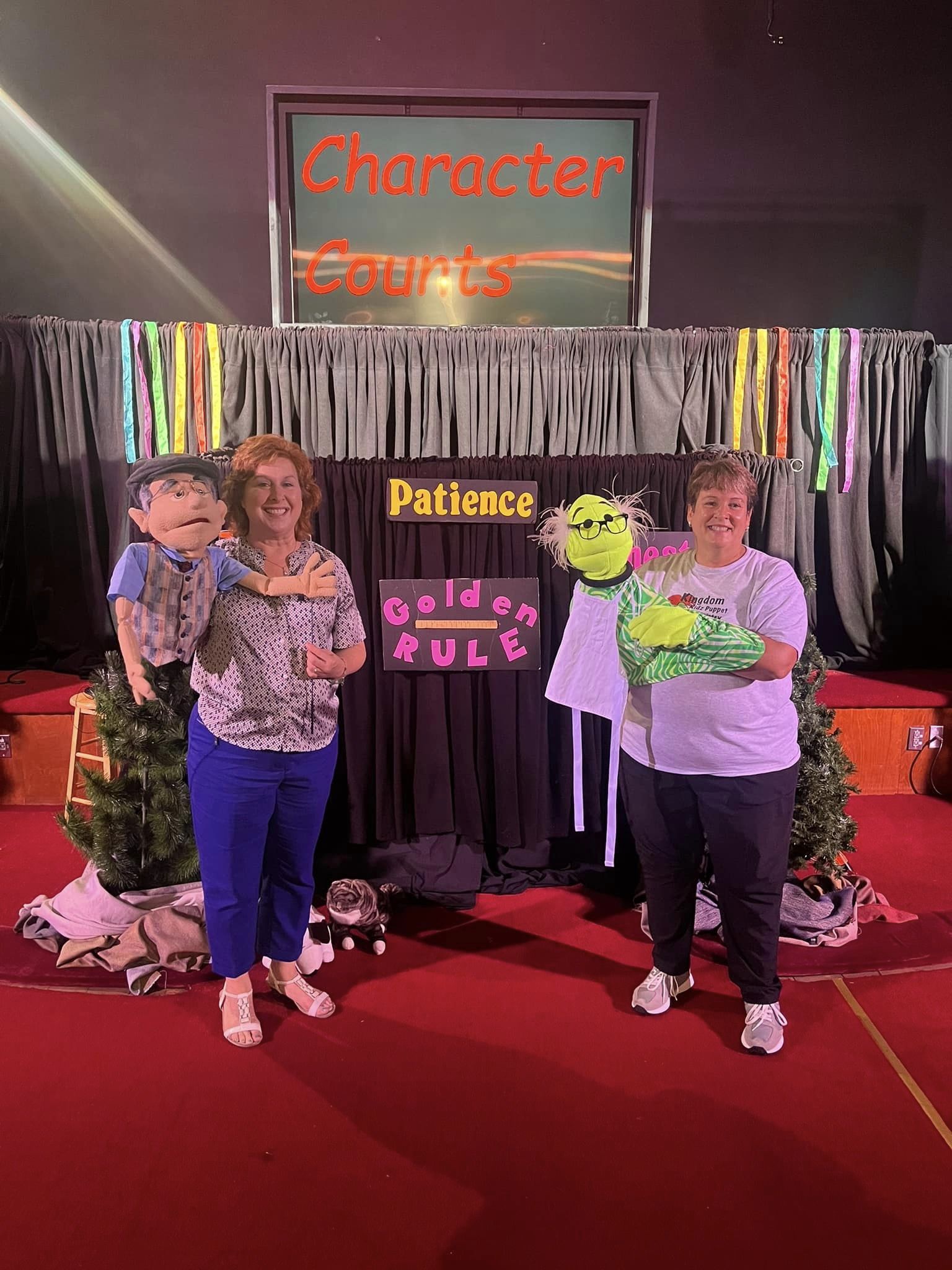 State Rep. Michael Stender and I toured the Kingdom Kidz Inc.'s summer camp held at the Puppet's Home in Watsontown. We toured the facility and got to witness the summer camp program in action with kids from the Milton YMCA. We saw how they use puppets as an educational tool to make a positive influence in the lives of children. It was amazing to see how creative these kids were. Kingdom Kidz Inc.'s free summer camp program and its SafeKidz program are having a very positive influence on young people in the community and I applaud them for offering these programs! Special thanks to Donna Bridge and Lisa Derr with Kingdom Kidz for inviting us to tour the facility and showing us the very unique programs they have for children. The link to their calendar of events with upcoming programs is available on their website.
Paramedics Recognized for 25 Years of Service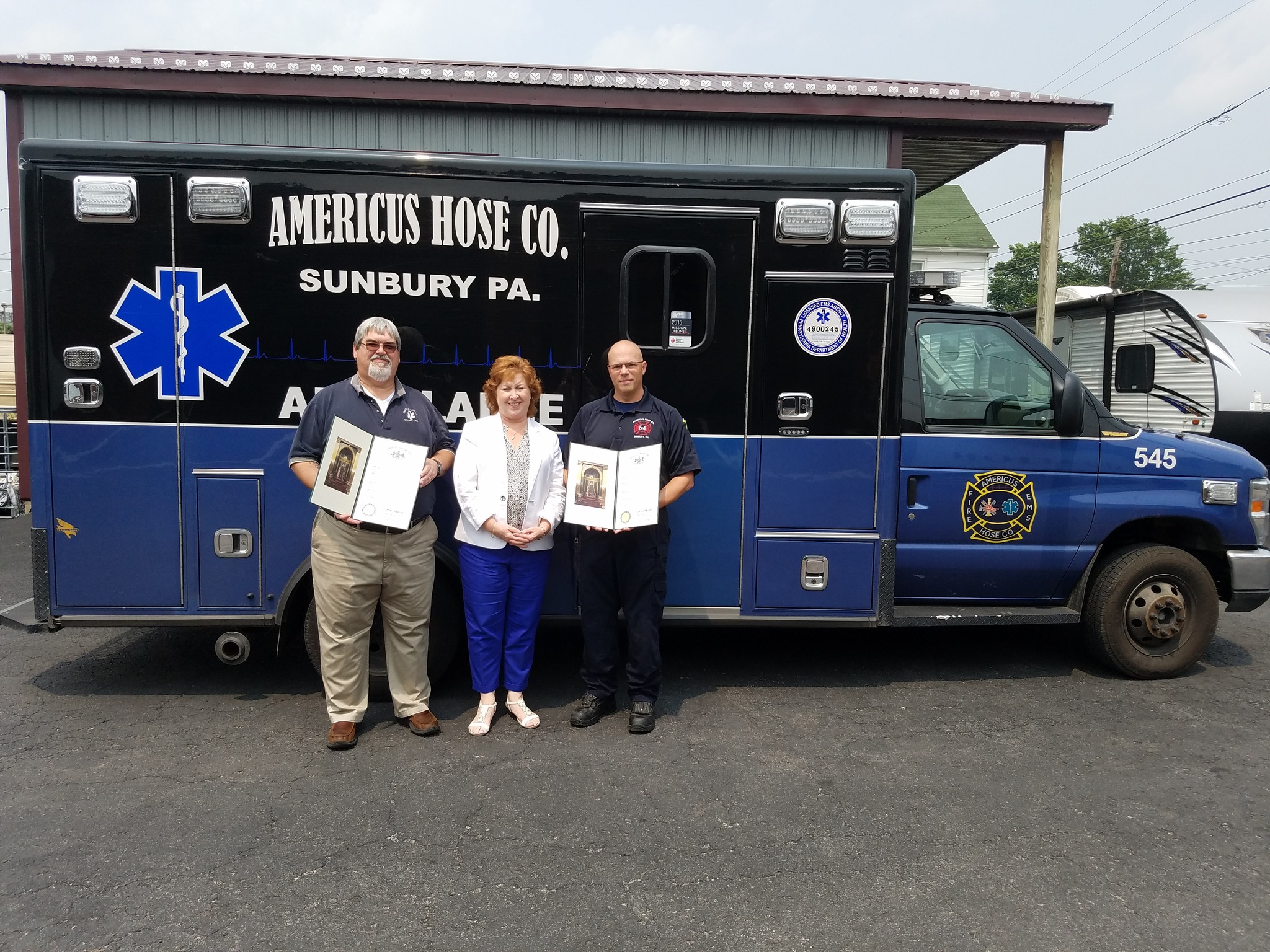 I was honored to present paramedics Chad Gavason and Robert L. Hare, Jr. with Senate citations recognizing them as recipients of the Star of Life Award in honor of their 25 years of dedicated service to the community. Chad and Robert are both members of the Americus Hose Company in Sunbury and have dedicated their lives to preserve and protect the health, safety and welfare of countless patients. Thank you, Chad and Robert, for faithfully serving the community for the past 25 years and best of luck to you both.
Local Eagle Scout Recognized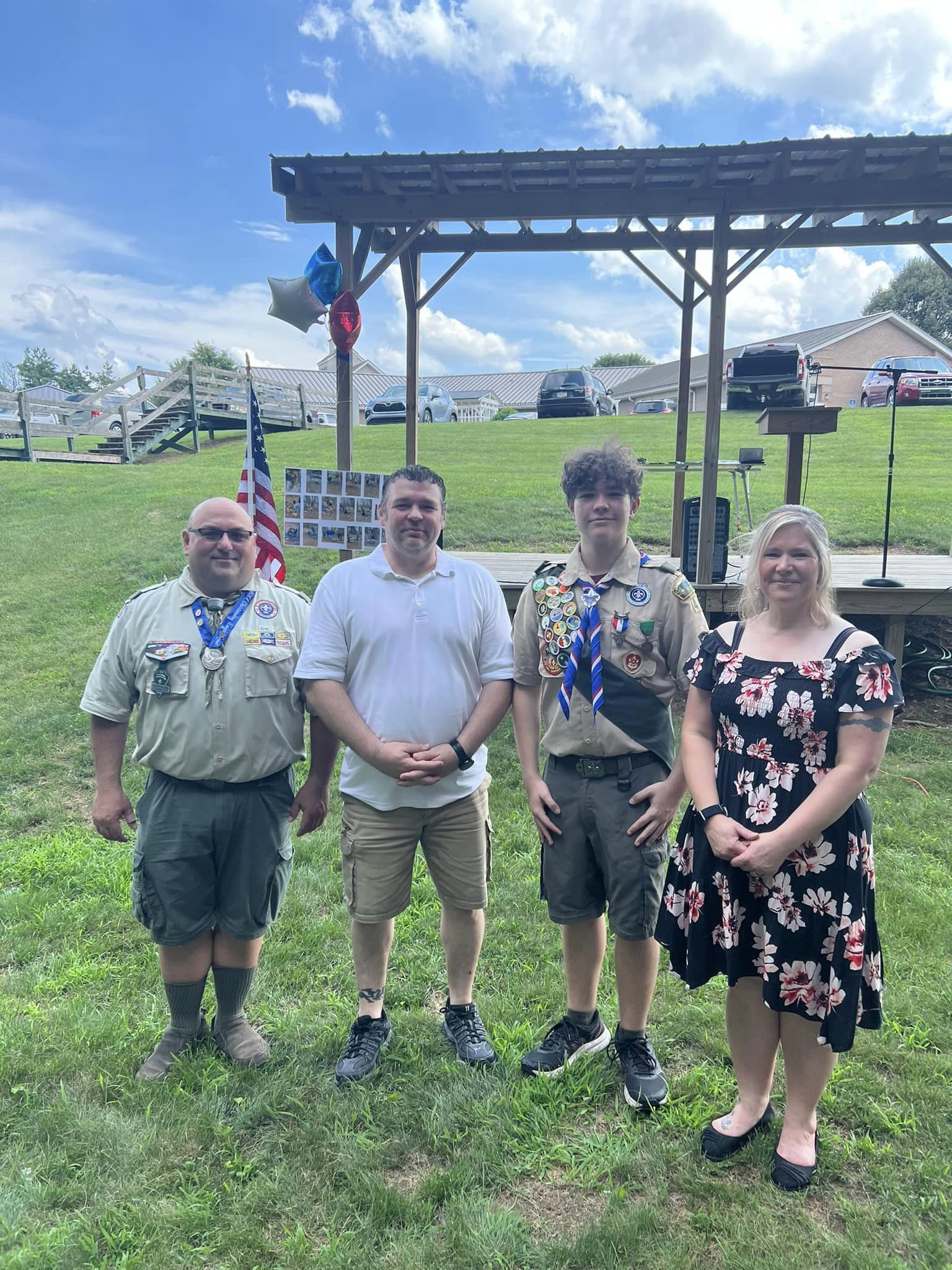 Congratulations to Jordan Fox on obtaining the rank of Eagle Scout. Jordan is a member of Troop 44 in Bloomsburg. He has served his troop as guide, quartermaster, assistant patrol leader and patrol leader. For his Eagle Scout community service project, Jordan restored the firepit at Saint Luke's Lutheran Church. This monumental achievement represents the great sacrifice and tremendous efforts that have been made by this young man and I wish him continued success in all his future endeavors.
Legislation to Support Students in Failing Schools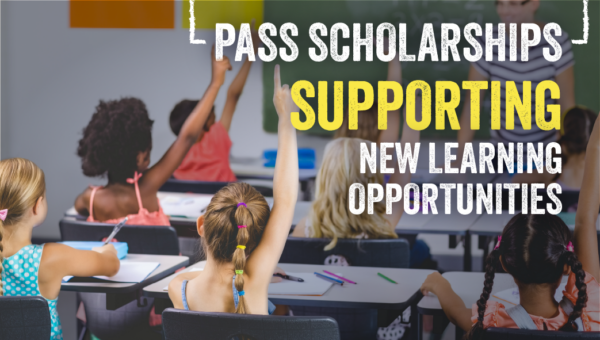 An estimated 250,000 students in Pennsylvania attend failing schools – many of which have only a small percentage of students performing at grade level in reading or math. The Pennsylvania Award for Student Success (PASS) program would offer scholarships to support new services and learning opportunities for students in the state's lowest-performing schools so these young people can have a brighter future.
The program would provide new educational options without taking a single penny away from public schools. To provide assistance to students and families who need it most, scholarships would only be available to families earning below 250% of the federal poverty level – about $75,000 for a family of four.
The governor has voiced his support for PASS scholarships and included the program in the budget he negotiated with Senate Republicans. However, he recently said he would unilaterally remove funding for the program from the state budget.
Senate Republicans will keep fighting to empower parents and give every child access to educational opportunities.
Free Webinars to Help Students and Families Navigate the Financial Aid Process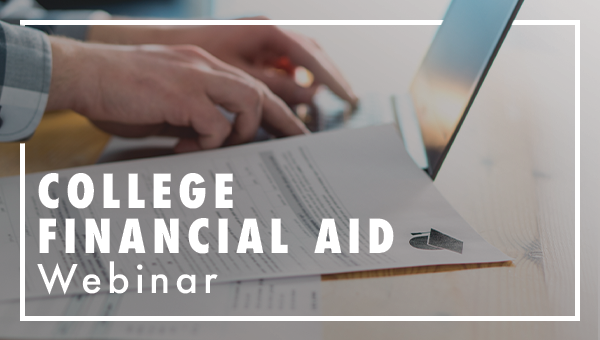 The Pennsylvania Higher Education Assistance Agency (PHEAA) is holding two free statewide webinars to assist college-bound students and their families with navigating the financial aid process.
Speakers will discuss how students and families can take advantage of PA Forward, which is Pennsylvania's state-based private student loan option offered by PHEAA.
The first webinar, Deep Dive into Covering the Gap, will be held Tuesday, July 25, at noon. The second, Borrowing for Education – Which Loan is Right for Me?, will be held Thursday, July 27, at 6:30 p.m. Register to attend the one-hour webinars here.
Water Assistance Available for Low-Income Families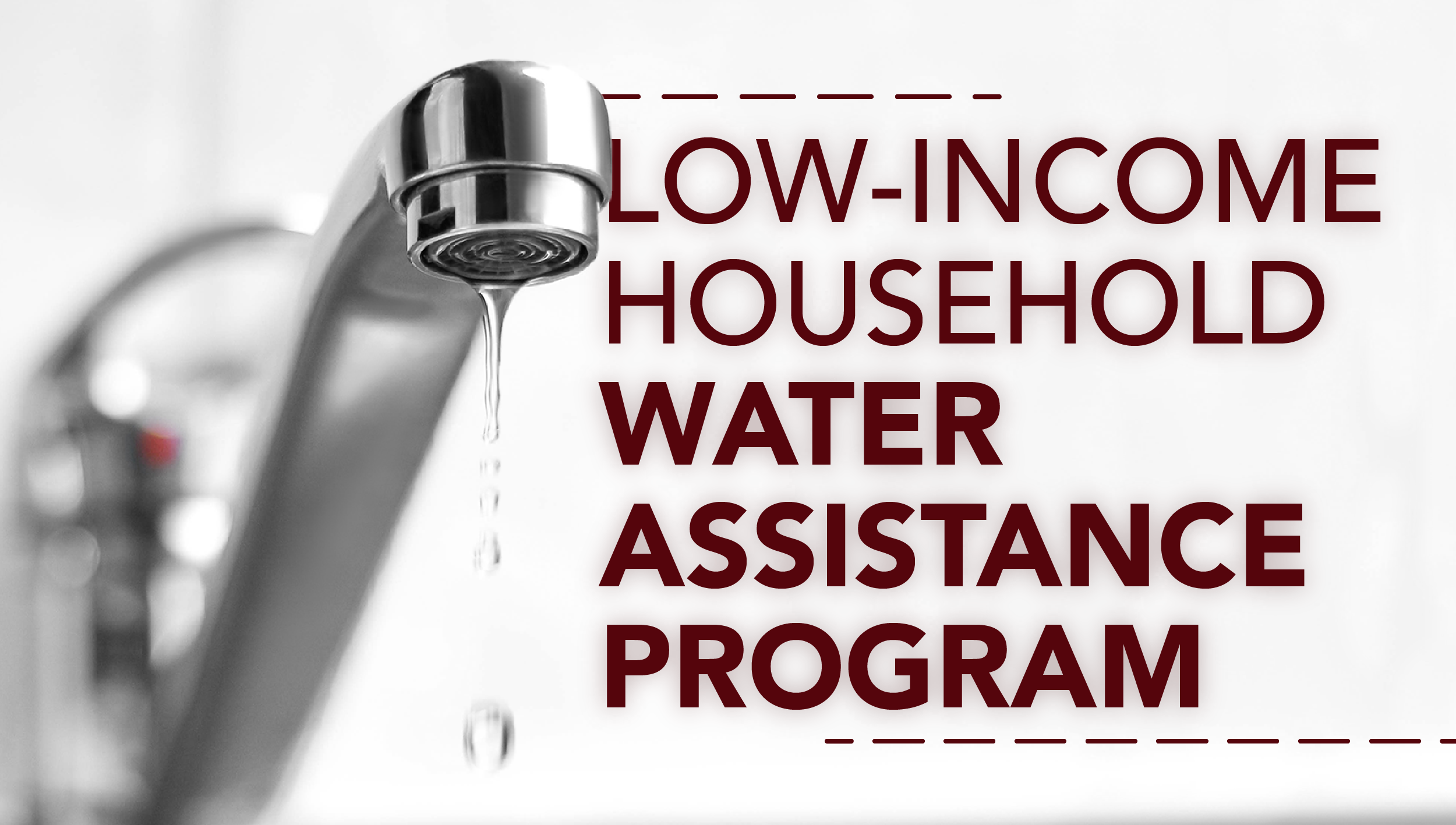 The Low-Income Household Water Assistance Program (LIHWAP) is a temporary emergency program to help low-income families pay overdue water bills. The money does not need to be repaid.
LIHWAP assistance may be available if you have an emergency situation and are in jeopardy of losing your water service. You can receive one crisis grant for your drinking water service and one crisis grant for your wastewater service, up to $2,500 each. Qualifying crisis situations include past-due water bills, termination of utility service and danger of having utility service terminated (received a notice that service will be shut off within the next 60 days).
For more information – including income limits – or to apply for assistance, click here.
Beware of Unsolicited Emails Claiming to be from PA Treasury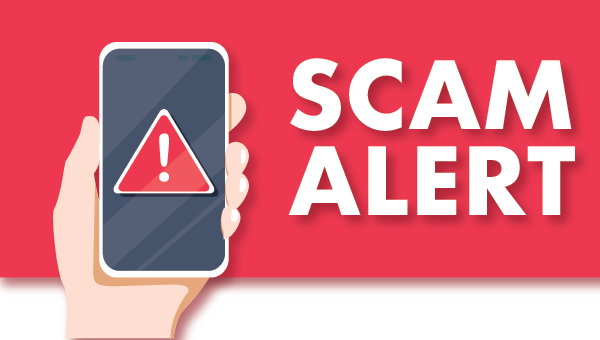 Online scams are a constant threat. Lately, there have been sophisticated phishing emails imitating the Pennsylvania Treasury Department circulating. The messages include a link to what appears to be Treasury's website, but instead leads to a fake version that prompts users to enter log-in credentials.
The Pennsylvania Treasury Department will never ask you to share personal information through unsolicited emails or text messages.
If you receive a suspicious message claiming to be from the Pennsylvania Treasury Department or have questions, contact Treasury through its secure website.
Celebrating Independent Retailer Month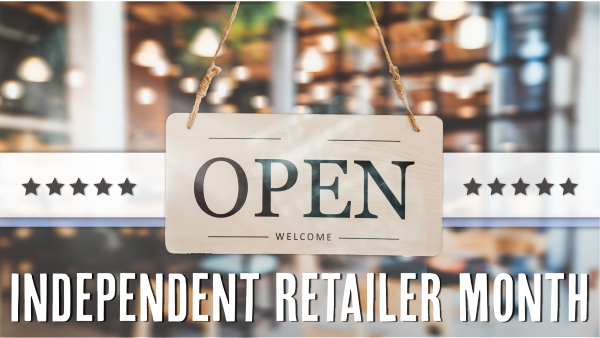 July is Independent Retailer Month, a shop local event that encourages consumers to patronize small businesses. It also highlights the positive impact independent retailers have on their communities, through the jobs and economic boost they produce.
According to the U.S. Small Business Administration, there were 1.1 million small businesses in Pennsylvania that employed 2.6 million people in 2022.
To support employers in the commonwealth and the benefits they provide, Senate Republicans passed a state budget that adds tens of millions of new dollars for workforce development, job training, and career and technical education.

For anyone who hasn't already signed up to receive my e-newsletters, you can get on the mailing list here.