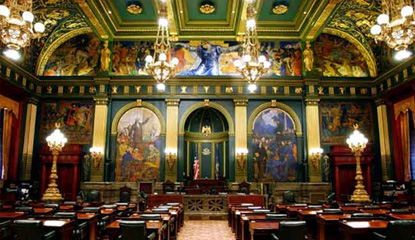 HARRISBURG – Sen. President Pro Tempore Kim Ward (R-39) and Sen. Majority Leader Joe Pittman (R-41) today congratulated current state representative and incoming state Sen.-elect Lynda Schlegel Culver (R-27), who won a special election on Tuesday to fill the vacancy left by the departure of former Sen. John Gordner.
"We are pleased to welcome Senator-elect Culver and look forward to working with her to advance policies and proposals that help Pennsylvania families," Ward said. "Lynda's experience from serving in the House and her second-to-none work ethic will be a real asset in the Senate."
Once sworn into office, Culver will give Senate Republicans a 28-22 seat majority.
"State Senator-elect Culver is a welcome addition to our growing majority and we fully expect her to hit the ground running," Pittman said. "She understands the legislative process, appreciates the importance of working together to accomplish a common goal and has worked hard to gain the trust of the people in the district she'll serve."
Culver is serving her seventh term in the House representing the people in the 108th District. Prior to be elected to the House, she served for more than 20 years as the staff leader in the office of former state Rep. Merle Phillips (R-108).
She will resign from her seat in the House prior to being sworn in to serve in the Senate. Culver is expected to be sworn into the Senate when it returns to session, which currently is scheduled for the last week in February.
"I'm excited about this new opportunity to serve the people in our area," Culver said. "I am honored by the support I received from people across the 27th District. I'm committed to working with my colleagues to advance legislation and enact policies that will create more and better opportunities for workers, businesses and families across our commonwealth."
Culver will serve the remainder of the term of former Sen. Gordner, who stepped down late last year to accept a position in the office of President Pro Tempore Ward. Culver's Senate term will last until the end of November 2024.
The 27th District includes all of Columbia, Montour, Northumberland and Snyder counties, and part of Luzerne County, including Black Creek, Butler, Conyngham, Dorrance, Fairview, Hollenback, Huntington, Nescopeck, Rice, Salem, Slocum, Sugarloaf and Wright townships, and Conyngham, Nescopeck, New Columbus, Nuangola and Shickshinny boroughs.
More information about Culver and the 27th District is available at https://27thdistrict.pasenategop.com/.
Senator Ward Media Contact
Erica Clayton Wright
ewright@pasen.gov
717-787-6063
Senator Pittman Media Contact
Kate Eckhart Flessner
kflessner@pasen.gov
717-787-8724